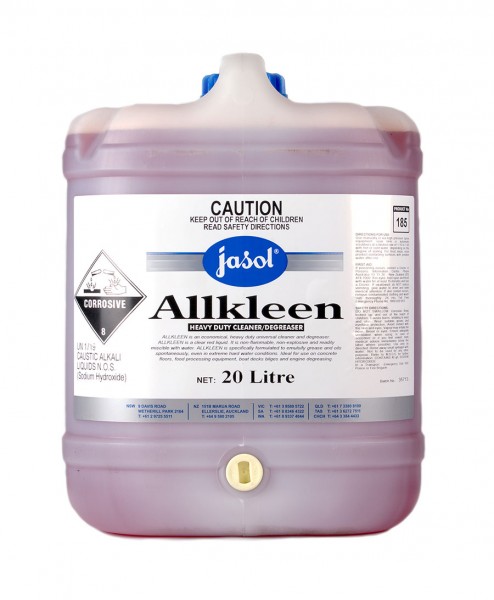 Heavy Duty Cleaner and Degreaser

DESCRIPTION
ALLKLEEN is an economical, heavy duty universal cleaner and degreaser.
ALLKLEEN is a clear red liquid. It is non explosive, non flammable and readily miscible with water.
ALLKLEEN is specifically formulated to emulsify grease and oils spontaneously, even in extreme hard water conditions.


RECOMMENDED USES

ALLKLEEN can be used for all heavy duty cleaning tasks where the surface is not adversely affected by alkalinity.

i.e. GENERAL: shower and ablution blocks, kitchen walls, floors, extraction hoods, processing equipment.
INDUSTRIAL: Degreasing machinery, mining equipment, workshop walls/floors, steam/ pressure cleaners, soak tanks, automatic scrubbing machines.

ALLKLEEN Cleaner Degreaser C31 5L
Product Code: ALLKLEEN/5L