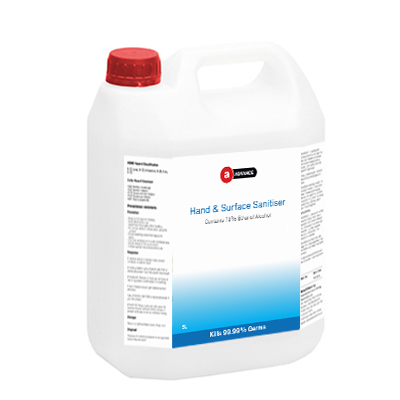 Advance Hand and Surface Sanitiser is an alcohol-based sanitiser that provides a sterile hand and hard surfaces. It evaporates fast, leaving hands and surface sanitised. With proper use, it will kill 99.9% of common germs.

Product Features
• Contains 70% ethyl alcohol.
• Leaves hands feeling, refreshed and sanitised after use.
• Leaves surfaces sanitised after use.

Applications

Advance Hand Sanitiser & Surface Sanitiser is designed to effectively sanitise hand and hard surfaces. There is no need to use paper towels or mechanical air. Use product via a suitable dispenser or pump, apply it onto dry hands, rub hands together and allow to dry for 12-15 seconds.
Surface & Hand Sanitiser 5L
Product Code: SANTHANDSURF/5L