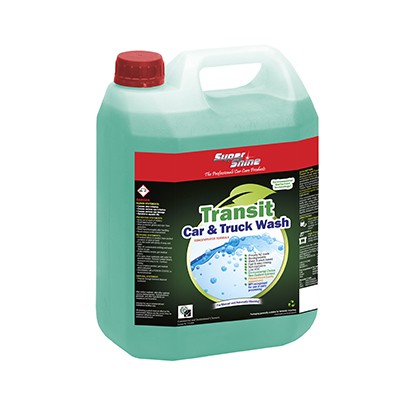 Transit Car and Truck Wash has been developed with state of the art environmental surfactant technology. This innovative sustainable technology has excellent degreasing properties and leaves surfaces shiny. It is concentrated, pH balanced "Green" liquid formulation. It combines biodegradable detergents, environmental sequestring agents and grease cutting ingredients.This concentrated industrial formulation removes wide range of different types of traffic film using either low pressure application or hand pressure application. It exhibits effectiveness for removing dirt, oil, grease and road grime. It protects and rapidly dewaters painted surfaces.
Properties:
Proudly NZ Made
Biodegradable
Water & plant based
Fast & easy rinsing
Non-corrosive
Low VOC
Concentrated Formula
Environmental Choice New Zealand Licensed
Commercial and Institutional Cleaners Licence No. 3711094
Passed AsureQuality assessment
MPI recognised for use in dairy processing
Directions:
Hand Application: Dilute 100mL of Transit to 10Litres of water (or 1:100) or 1 cup to 1 bucket, sponge on then rinse off with clean water.

High Pressure Spraying: Dilute with up to 200 parts clean water, spray onto surface, then rinse off using clean water.
Dilute from the cold tap is recommended.

Transit CAR & TRUCK Wash (Sshine) 5L
Product Code: CARWASH/SHINE/5L